We use the most up-to-date technology to ensure the best eye care possible. Here are some of the different types of tests and equipment you may experience on a visit to our Practice.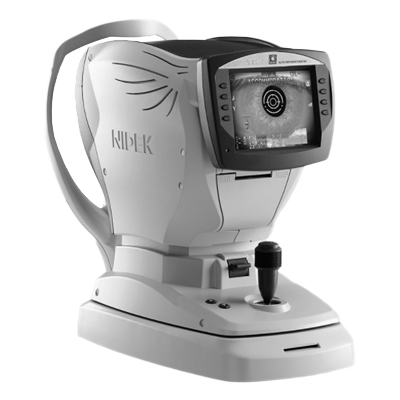 ARK-1a Autorefractor & Keratometer
Very accurate in the assessment of vision, contact lens fitting and various diseases of the cornea and inner eye structures. Using an automated, computerized refracting system, we can determine the best prescription for you.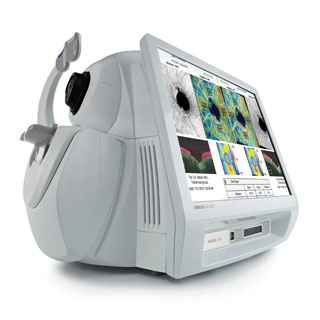 AngioPlex®
OCT technology generates high-resolution, cross-sectional and three-dimensional (3D) images of the retina, optic disc and anterior segment, to give you valuable information that aids in the diagnosis and management of a range of ocular diseases.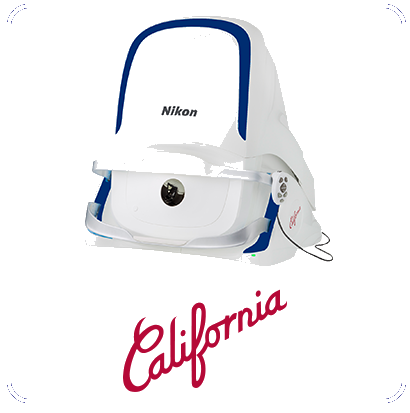 Optos California
Was designed to facilitate retinal exams and document findings.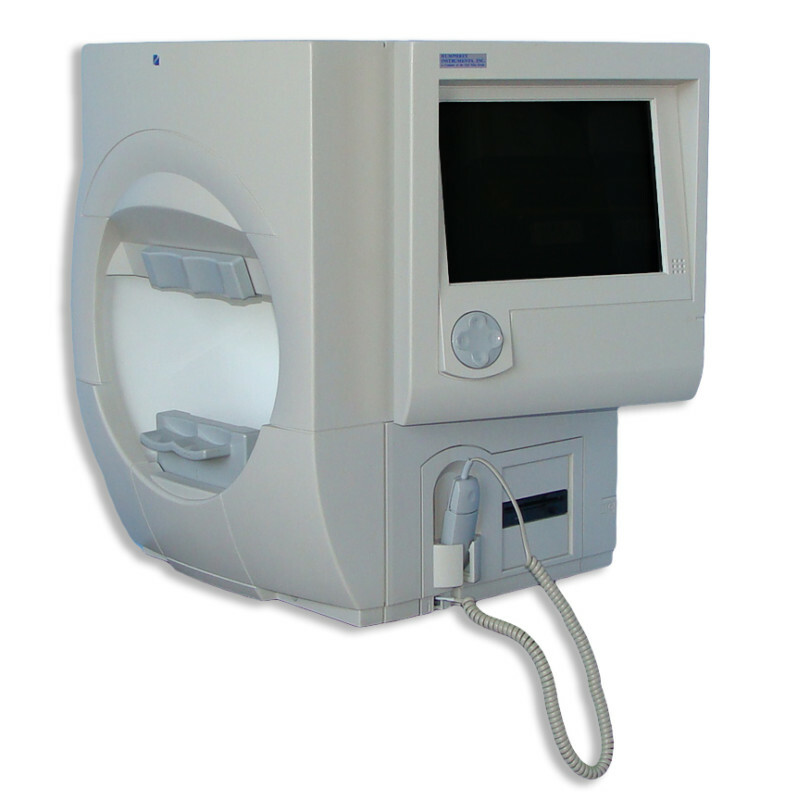 Humphrey 740
The Humphrey Visual Field HFA 740 is loaded with features including 19 test patterns, and user designed custom testing capabilities with a testing range out to 90 degrees. Includes an integrated hard drive, eliminating the need for an external computer. The Zeiss 740 also offers SITA, the expert operating system, as an optional feature; however, the Zeiss 740 does include FastPac software as a standard feature, reducing testing time by 40%. Also offers Multiple StatPac Analysis Software test results, which can be printed to compare Visual Field progression over time. Additional features on the Humphrey Visual Field HFA 740 include Full threshold testing, stimulus sizes from Goldman I-V, and stimulus colors in Red or Blue on White are included. The Zeiss 740 Perimeter also includes a VGA monitor hook up for external viewing of test results. The Humphrey Visual Field HFA 740 is a very reliable, yet affordable visual field. The 740 performs most tests flawlessly and at at an acceptable speed. Our units are sold fully refurbished, inspected and upgraded. Our visual fields are also sold with the Zeiss power table with integrated printer. The Humphrey 740 perimeter includes 19 test patterns, user designed custom testing capability with a testing range out to 90 degrees. A 1.1GB hard disk storage is provided, eliminating the need for an external computer. SITA, the expert operating system, is an optional feature on the model Humphrey 740.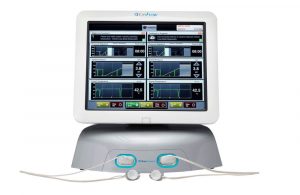 LipiFlow® Thermal Pulsation System
The LipiFlow® device provides vectored thermal pulsation to warm the meibomian glands through the inside of the lids and gently massage thickened meibum (lipid) and debris from the gland.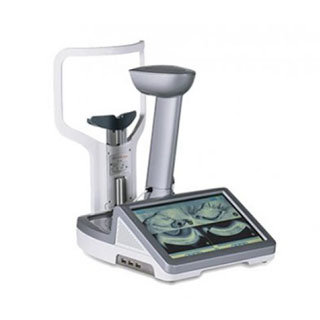 LipiScan™ Dynamic Meibomian Imager
High definition images of your meibomian glands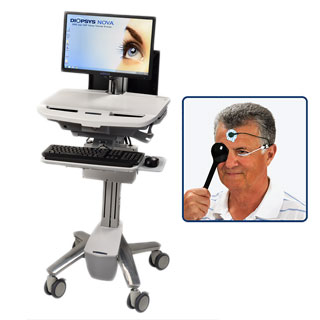 NOVA-ERG
Measures the communication between the visual system and the brain utilizing electrophysiological technology.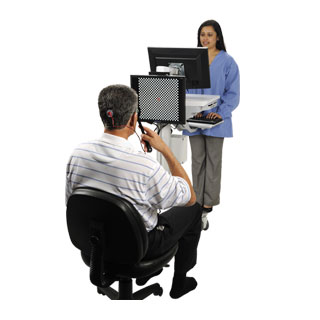 NOVA-VEP
Visual Evoked Potential (VEP): VEP measures early detection of eye disease by identifying cell health before permanent damage occurs.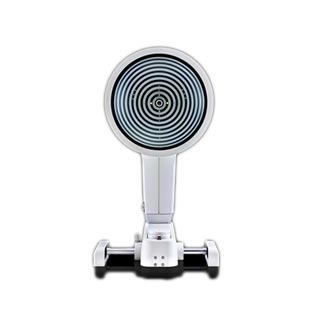 OCULUS Keratograph® 5M
Using an automated, computerized refracting system, we can determine the best prescription for you. Advanced vision-assessment system that combines topography, wavefront, autorefraction, keratometry, and pupillometry — allowing accurate and reliable analysis of corneal aberration.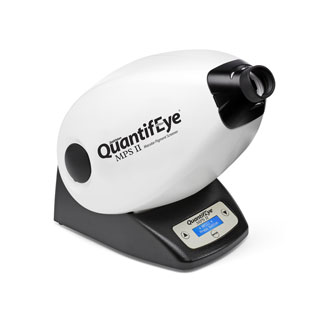 QuantifEYE®
This is used to assess the risk of developing Age-related Macular Degneraion (AMD). This quick, easy and non-invasive test will give you a baseline of your macular pigment optical density (MPOD).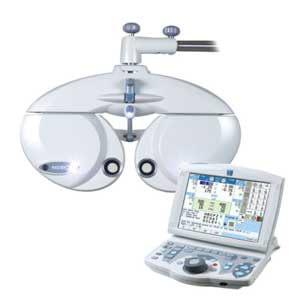 RT-5100
The Nidek Intelligent Refractor RT-5100 features an ergonomic design and a speedy and smooth lens change. It fits perfectly in a small space, providing a quick and accurate exam for both operators and patients.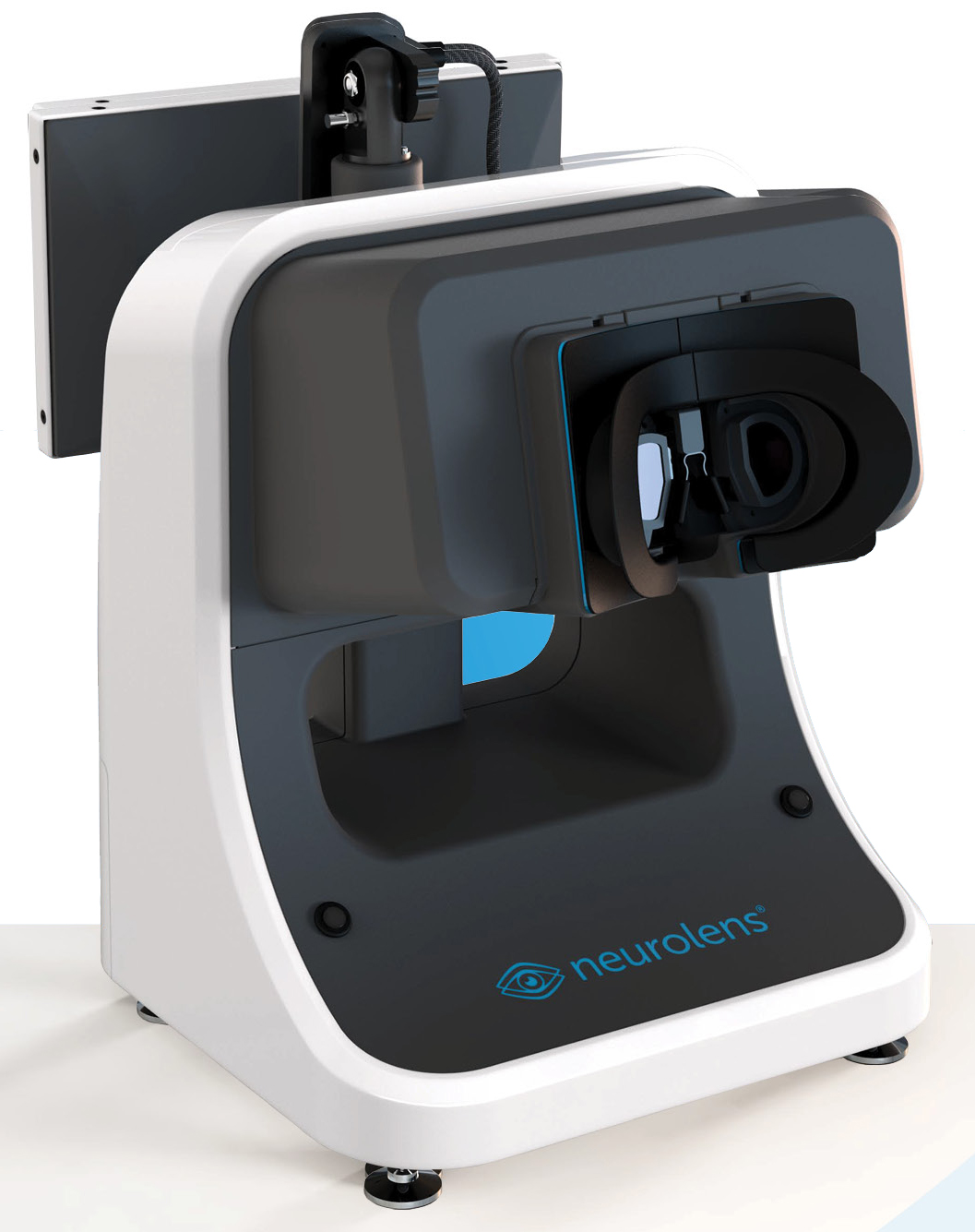 The Neurolens Measurement Device, Gen 2 (NMD2)
The NMD2 is an objective, accurate and repeatable way to measure eye alignment. The cutting-edge eye tracking system allows the NMD2 to identify eye misalignment as small as 0.1 Prism Diopters, acquiring over 10,000 data points per patient.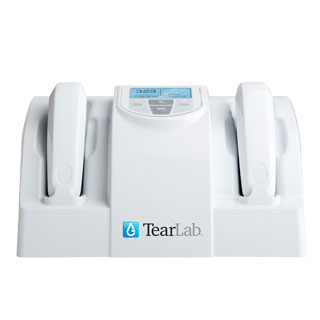 TearLab Osmolarity System
TearLab's sophisticated lab on a chip technology tests a tiny tear sample to measure Osmolarity, or the salt content in the tears. This gives doctors a meaningful measure of the health and stability of the protective tear film that covers the surface of your eyes.
CIRRUS® 6000
Delivering high-speed image capture at 100,000 scans per second with HD imaging detail and a wider field of view, so clinicians can make more informed decisions and spend more time with their patients.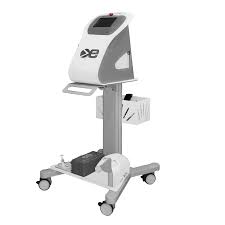 Equinox LLLT
The Equinox Low Level Light Therapy (LLLT) is a non-invasive, pain and stress-free treatment of dry eye and MGD for all patients regardless of skin type. No gel is required and the entire periocular area is treated using direct and indirect Photobiomodulation during the typical 15-minute application.